Novatech has been retained to prepare and file minor variance and severance applications to facilitate the development of two semi-detached buildings and one detached dwelling on the lands municipally known as 830 and 840 Alpine Avenue. The proposed development has been designed around the preservation of the large mature tree located in the front yard of the subject properties.
The proposed site plan is as follows.  We have annotated it to provide clarity over the number of dwellings that are expected to be erected.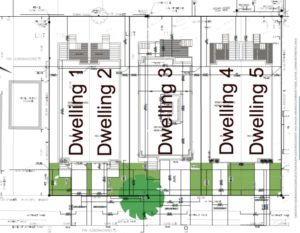 The artist rendering of the dwelling types is as follows:

Minor variances for lot area and lot width are required to support efficient building design while fitting in with surrounding lots. Minor variances for increased height and reduced setbacks are required to preserve the mature tree located in the front yard. Minor variances for the projection of the decks support effective use of the rear yard space.
Novatech is hosting a virtual community meeting is planned for Thursday November 19th at 7:00pm-8:30pm to further discuss this proposal. The meeting will take place through the "Zoom" application. Please email t.west@novatech-eng.com for more information and an invitation to the community meeting.
The original PDF invitation from Novatech is here.
If you have any questions or comments, do not hesitate to reach out to the undersigned. Taylor West, M.Sc. (Planning) | Planner, NOVATECH Engineers, Planners & Landscape Architects t.west@novatech-eng.com